Finding a new friend in Chrome OS
0
I recently decided to invest in a new computer. My goal was to get a new system that would be simple, portable, relatively inexpensive and include a touch screen so I could transform it into a tablet.
Over the past 15 years, my wife and I have almost exclusively purchased Mac computers. I have loved each of them and they have each given me years of sturdy service. My 2012 15″ iMac is still working just fine for most purposes, it's just huge and weighs a lot. Installing an SSD drive a few years ago certainly extended its lifespan.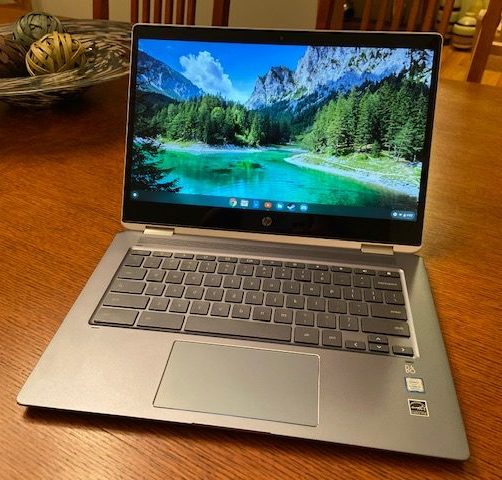 When deciding on a purchase this time I wanted to open my sights a bit wider. I looked at Windows, Linux and Chrome OS based options across a variety of manufacturers. Surprisingly I ultimately decided on purchasing a system running ChromeOS. Here are some of the highlights behind my decision:
The systems are relatively inexpensive
Models within my decided price range include touchscreens
Have easily expandable storage via microSD cards
They can also run Linux in Chrome OS so I can install applications such as:
By default, they can run both Chrome OS and Android apps.
Another plus for me is I run a Synology NAS system at home and I can easily connect to it through the built-in "Files" application and the native apps designed for Android. YES!!!
After a good amount of research, I landed on the HP x360. The particular model I purchased runs a CORE i3 processor with 8GB of ram. Which makes for a very snappy Chromebook experience. I paid just over $400 for this computer. While that is on the slightly higher price range for a Chromebook, the specs, beautiful display, snappy keyboard and touchscreen made it well worth the investment.
I have been able to run a variety of Chrome and Android applications with no real hiccups. Even most of the Linux apps run smoothly on this hardware. The only thing I have been unable to do is run Steam-based games effectively. I was able to install the full Linux based Steam client but my integrated graphics card isn't able to render any of the games effectively. A little disappointing but not at all surprising.
Overall I highly recommend this level of Chromebook to people looking for something that just works and will handle 99% of the daily tasks you can throw at it. Sure it's not the best computer for video editing or playing graphically intensive video games, but you will need to pay a lot more than $400 for a computer of any type that can keep up with those GPU demands.
I give my Chromebook experience a thumbs up!